2021 Mid-Winter Business Meetings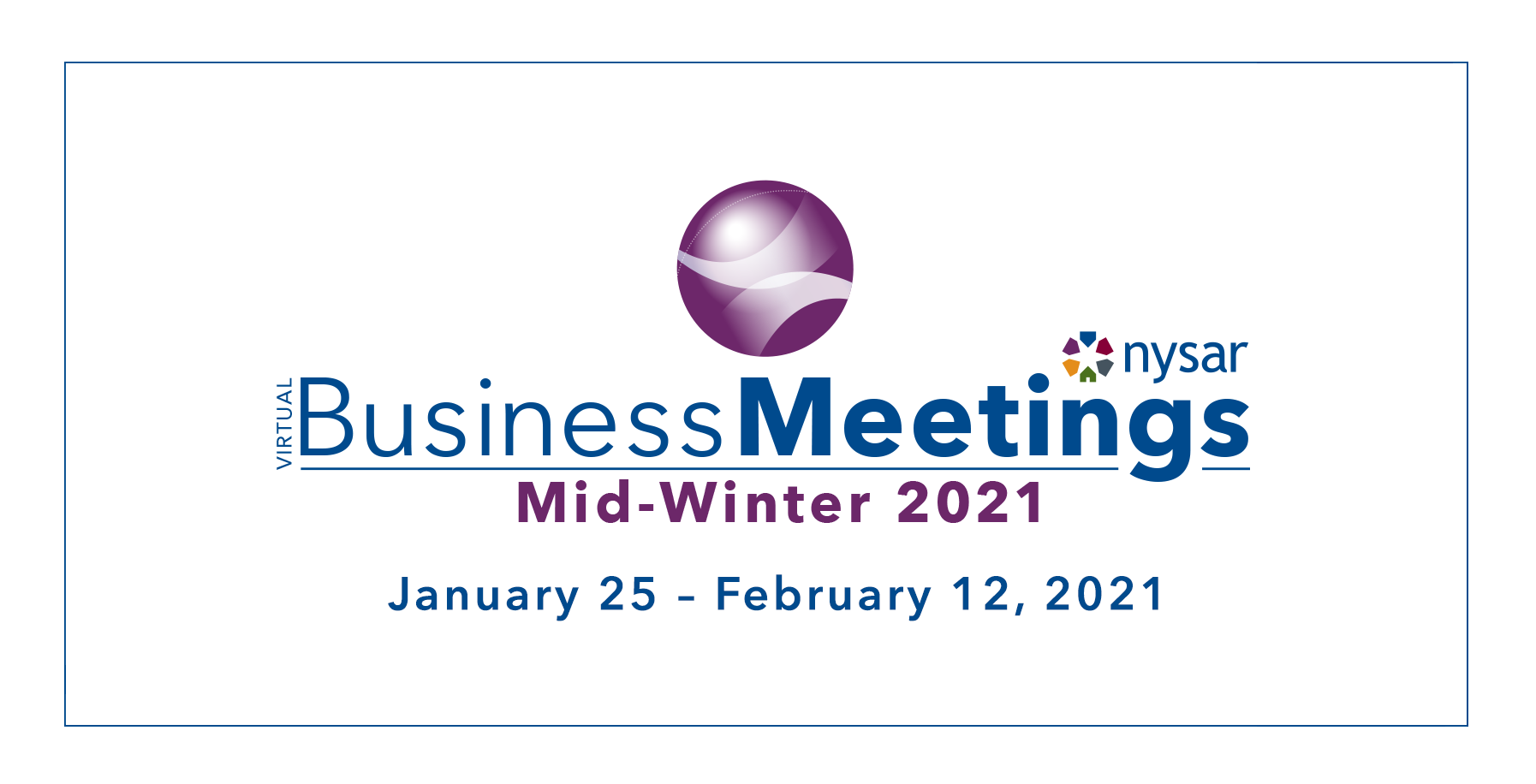 The New York State Association of REALTORS® 2021 Mid-Winter Business Meetings will be held virtually from Monday, January 25 through Friday, February 12, 2021.
Registration
To register for the meetings, log onto nysar.com to access the member portal or click here.
Meeting Planner
Meeting Planner is the central location for meeting dates and times, supporting documents, and Zoom meeting links. You will hear directly from your staff liaison and committee chair with information regarding how to join your meeting. To log onto meeting planner, click here.
Click here to download the full business meetings schedule.
In addition to the committee meetings, the following highlighted events will be taking place:
Local Board/Association Leadership Conference
Monday, January 25, 8 a.m. – 4 p.m. (1 hr. break from 12pm-1pm)
Cost: FREE
Designed for local board/association leadership teams and directors, this conference provides direction for forging strong partnerships in order to achieve goals, tackle issues and address challenges that are regularly faced by board/association leadership. Among the speakers will be, David Phillips of Phillips Leadership and Consulting, Katherine Johnson, NAR General Counsel and Bryan Greene, NAR Director of Fair Housing Policy.
* Pre-registration is required.
Young Professionals Network (YPN)
Monday, January 25, 5 – 7 p.m.
Young (and young at heart) professionals from across the state are invited to hear a 2021 Economic & Demographic Overview from Dr. Jessica Lautz, vice president of Demographics and Behavioral Insights from the National Association of REALTORS®. Real Estate Broker Adorna Carroll will also present, "Issues & Opportunities of Securing Compensation," to better prepare New York REALTORS® for the changing business practices.
Keep pulling your aluminum tabs for the Ronald McDonald House!
Join the NYSAR YPN as we once again collect aluminum pull tabs to donate to the Ronald McDonald House of Albany.
Appraisal Roundtables
Tuesday, January 26, 10:30 a.m. – 11:30 a.m.
Join your peers at these informal sessions for lively discussion on appraisal hot topics and additional networking.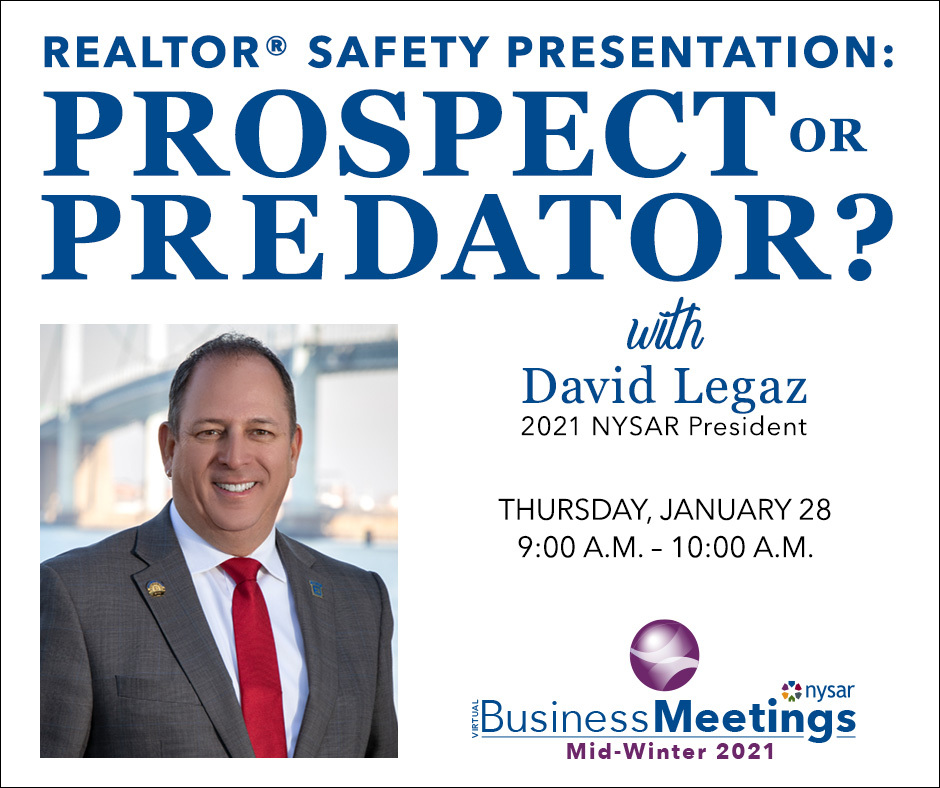 Safety Presentation
Thursday, January 28, 9:00 a.m. – 10:00 a.m.
Cost: FREE
Submitted for 1 hour of CE credit pending DOS approval
2021 NYSAR President David Legaz will offer a REALTOR® safety presents, Prospect or Predator? Reduce The Risk Of Being Attacked – Without Sacrificing the Sale!
Max Occupancy: 500
* Pre-registration is required.
Appraisal Course – "Market Going up or Down? Learn how to Measure!"
Tuesday, February 2, 9:00 a.m. – 12:00 p.m.
Submitted for 3 hours of real estate and appraisal CE
Cost: $25
This class gives you the skill to read the market and put it into practice. Is your market changing? For the better or worse? Are REO becoming your market? Is it Declining? Are values increasing? How can you support that increase? These skills will help you with working with your clients and the intended users.
* Pre-registration is required.
RPAC of New York presents: "A Grimm Escape"
Tuesday, February 2, 5:00 p.m. – 6:30  p.m.
This fundraiser is an interactive virtual fantasy adventure where you have become trapped in an enchanted forest and must find out how to escape before time is up. Your only way home is to collaborate in teams to examine clues, solve puzzles and create a charm that breaks a witch's spell in time for an escape.
Curious images, a mysterious oracle, and woodland creatures will secure your troupe's fate in this Brothers Grimm inspired tale.
Cost: $50 RPAC Investment
This event will be held by Zoom and a customize link will be sent directly to event registrants. Pre-registration and pre-payment is required and there is a maximum capacity of 150 attendees. We cannot accommodate walk-ins or same day registration. Questions: Contact NYSAR's Political Affairs Coordinator, Derick King 518-463-0300 x238 or [email protected]  The deadline to register for this will be at Tuesday, January 26th at 2pm.
Wheel of Fortune & Wine Fundraiser to benefit the NYSAR Housing Opportunities Foundation
Wednesday, February 3, 5:00 p.m. – 6:00 p.m.
Cost: $50
Take your chance on the Wheel of Fortune! Small and large prizes will be given away!
Everything You Wanted to Know About Wine but Were Afraid to ask with Tim Sweeney of Stone Ridge Wine & Spirits.Tim will answer all those questions you never wanted to ask in public – have your questions ready and your favorite wine in hand!
* Pre-registration is required.
Local Board Education Forum
Thursday, February 4, 11:00 a.m. – 12:00 p.m.
This is an opportunity to get your questions answered and have a discussion with the Department of State staff members on everything from qualifying courses and licensing to continuing education and license renewal. Don't miss this semi-annual opportunity.
Housing Opportunities Committee
Thursday, February 4, 4:00 p.m. – 5:30 p.m.
Back by popular demand – Dr. Tiffany Manuel spoke to us in the fall emphasizing how REALTORS® as professionals in the housing industry can convey the importance of housing and to build public support for investing in the housing needs of those in our communities. How do we address big affordable housing challenges and how to we get people to lean in? Dr. T showed us the what, and now we will dive into the how – "What we need to do in our communities to implement more effective messaging," breaks down what we need to do in our communities to implement more effective messaging and curb the opposition to affordable housing.
Also joining us, Daniel Llyod, Founder & President, Minority Millennials will be on hand to present, "Housing solutions for minorities – a new concept of what affordable housing means" discussing housing solutions for minorities – a new concept of what affordable housing means. Minority Millennials works to develop ideas that solve problems in our community, create a shared consciousness of environments that promotes innovation and advocate for inclusive and equitable quality education, healthcare, and economic opportunities.
Global, Resort & Second Home Markets Committee
Thursday, February 4, 1:00 p.m. – 2:30 p.m.
2021 Leadership Team Installation
Monday, February 8,  7 – 9 p.m.
Join Master of Ceremonies Tom McCarthy and V.I.P. guest, NAR President Charlie Oppler, as we virtually install the 2021 leadership team. There will be special "gift boxes" for the first 350 people who register prior to January 29!
* Pre-registration is required for this event.
Legal Update
Tuesday, February 9, 10:00 a.m. – 12:00 p.m.
During the session, NYSAR Legal Counsel Anthony Gatto, Esq. will provide an informative update on current legal issues.
Max Occupancy: 500
* Pre-registration is required.
General Session
Tuesday, February 9,  1:00 p.m. – 2:30 p.m.
This must-attend session will include President David Legaz's State of the Association address,  the presentation of the Lawrence B. Caldwell RPAC Award, 2020 Local Board RPAC Achievement Awards, RPAC of New York Hall of Fame Induction, the 2020 Community Service Awards and hear from our keynote speaker, NAR Chief Economist and Senior Vice President of Research, Lawrence Yun.
NYSAR Board of Directors New Director Training
Tuesday, February 9,  2:00 p.m. – 3:00 p.m.
If you are a new NYSAR director, please plan to attend this mandatory training session.
Legislative Policy Forum
Wednesday, February 10, 9:00 a.m. – 10:30 a.m.
NY State Senator Michelle Hinchey will be our guest speaker. Senator Hinchey, who calls the 46th Senate District home, represents all of Greene and Montgomery Counties and parts of Ulster, Schenectady, and Albany Counties. She is the youngest woman to represent an upstate district in the Democratic Majority Conference. NAR's field representative for New York State Zack Rubin-McCarry will also join us for an update on federal legislative and political issues.
Caucuses
Thursday, February 11
All attendees are encouraged to participate in their board's caucus to share details about the committee meetings attended that week in preparation for Friday's Board of Directors meeting. Please note this important change to the caucuses. The caucuses will now be organized reflecting board/association size rather than region.
(9:15 a.m. – 10:00 a.m.) Small Board Caucus: fewer than 400 members
(10:15 a.m. – 11:00 a.m.) Medium Board Caucus: between 400 – 999 members
(11:15 a.m. – 12:00 p.m.) Large Board Caucus: between 1,000 – 9,999 members
(12:15 p.m. – 1:00 p.m.) Jumbo Board Caucus: 10,000 or more members
The purpose of the caucuses is to educate the members on action items that will be presented to the Board of Directors. The remaining time may be used to discuss other matters such as NYSAR committee meeting activities. The caucuses will be run by an appointee of the Executive Committee who will report back to the full Executive Committee.
Save the Date!
The NYSAR 2021 Fall Business Meetings are tentatively scheduled to be held at The Turning Stone Resort & Casino, in Verona, NY on October 3-6, 2021.
If you have questions about the NYSAR Business Meetings, please contact the NYSAR office at 518.463.0300.