"Elevate Your Profession" 2022 Fall Business Meetings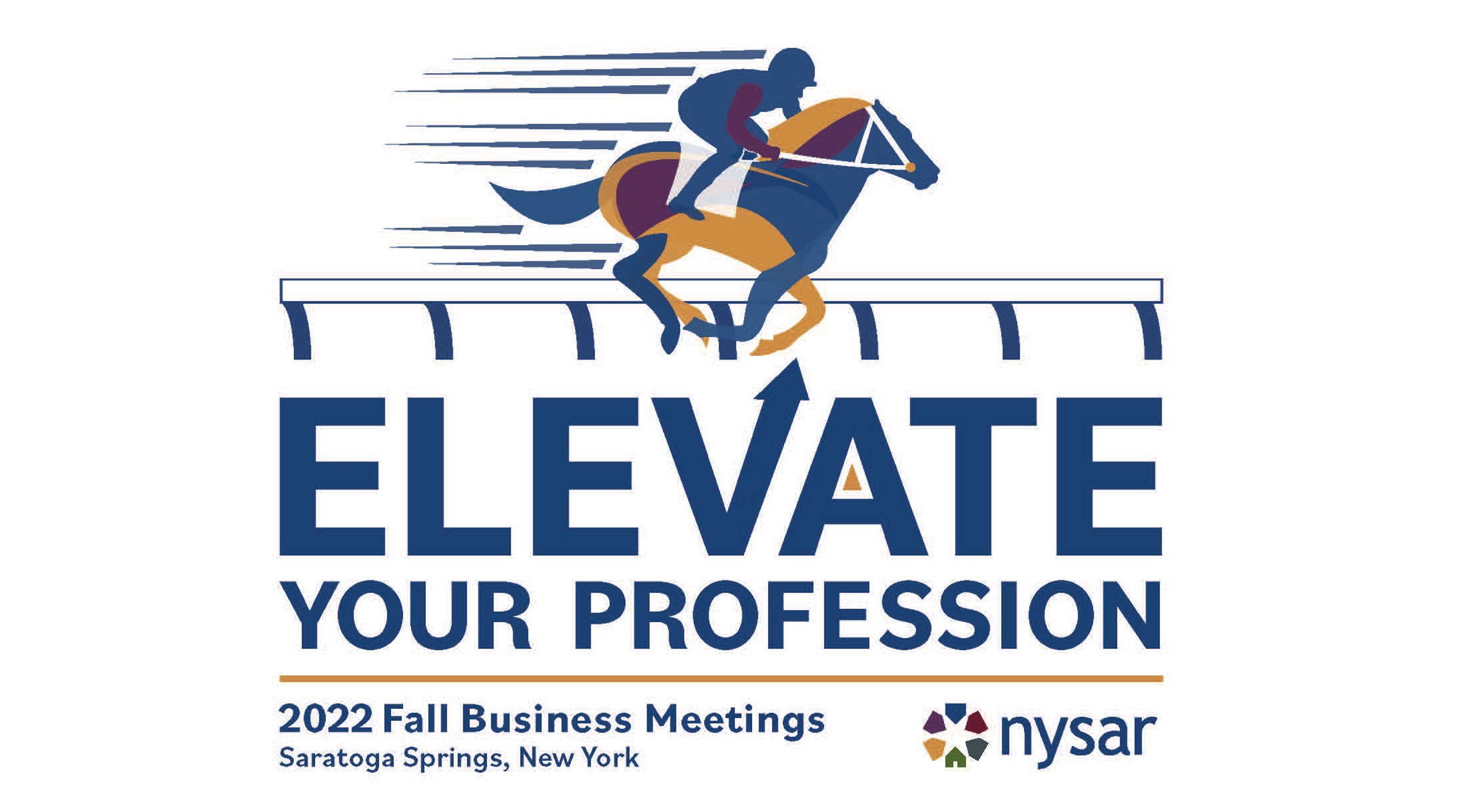 To view the full schedule for the 2022 "Elevate Your Profession" Fall Business Meetings, please click here.
Virtual Meetings to take place September 19-23, 2022
Monday, September 19
* Investment Committee – 10am – 11am
Commercial Issues Working Group – 11am – 12pm
NYC Issues Working Group – 1-2 pm
* NYSAR Real Estate Services – 2pm – 3:30pm
Co-Op Issues Working Group – 3:30pm – 4:30pm
Tuesday, September 20
* Federal Political Coordinator Update – 10am – 11am
* State Political Coordinator Update – 1pm – 2pm
* Leadership Academy Advisory Board – 2pm – 3pm
Article 12a Working Group – 3pm – 4:30pm
Wednesday, September 21
* Grievance Committee – 9am – 10am
* NYS Real Estate Education Foundation – 10am – 11am
Local Board Education Forum – 1pm – 2:30pm
* Faculty Development Sub-Committee – 3pm – 5pm
Thursday, September 22
* Legal Action Committee – 9am – 10:30am
* Housing Opportunities Foundation – 11am – 12:30pm
* Statewide Forms Committee – 2pm – 3pm
Housing Opportunities Committee – 3pm – 4pm
* Committee Members ONLY/Closed Meeting
In-person Meetings
NYSAR will be following all local and state health and safety protocols. There is no vaccination or testing requirement to attend the meetings. Please take proper precautions if you find that you come down with symptoms.
Please read NYSAR's COVID-19 statement by clicking here.
Registration
To register for the meetings, log onto nysar.com to access the member portal or click here.
Join NYSAR's Facebook group, follow @NYSAR_News on Twitter, and @nyrealtors on Instagram to connect with us before, during and after the Business Meetings. Be sure to use #NYSARFBM, and #FBM22 in your posts!
On-site Registration
Please visit NYSAR's on-site registration desk located in the Lower Lobby to check in and receive your name badge and final agenda. Attendees who purchased tickets to the RPAC Karaoke Night fundraiser or RPAC Yoga will receive them upon check-in.
The NYSAR registration desk will be open during the following hours: Friday & Saturday: 7:30 a.m. – 5 p.m.  |  Sunday: 7:30 a.m. – 2 p.m.
Hotel Information:
The Saratoga Hilton
534 Broadway
Saratoga Springs, NY 12866
(518) 584-4000
Single/Double room – $209/night
NYS Association of REALTORS® Book Here
Meeting Planner
Meeting Planner is the central location for meeting dates and times, supporting documents, and Zoom meeting links. You will hear directly from your staff liaison and committee chair with information regarding how to join your virtual meetings. Meeting Planner is coming soon. Please check back for updates.
In addition to the committee meetings, the following highlighted events will be taking place:
Safety Forum – REALTOR® Self-Defense
Friday, September 30, 10 a.m. – 11:30 a.m.
Cost: FREE
* Pre-registration is required.
Take part in this REALTOR® safety experience with a self-defense class. Work-out attire recommended for this live, "hands on" demonstration!
Fair Housing & Cultural Diversity Committee
Friday, September 30, 2:30 p.m. – 4:00 p.m.
President's Reception
Friday, September 30, 5:00 p.m. – 6:00 p.m.
The President's Reception is our opening night welcome reception where all attendees are invited to gather in the Saratoga Ballroom for networking, cocktails and hors d'oeuvres.
Legislative Policy Forum
Saturday, October 1, 10:30 a.m. – 12:00 p.m.
NAR's field representative for New York State Zack Rubin-McCarry will join us for an update on federal legislative and political issues and NYSAR Director of Government Affairs Mike Kelly will give a New York briefing.
General Session
Saturday, October 1, 2:00 p.m. – 3:30 p.m.
This must-attend session will include President Jennifer Vucetic's State of the Association address, the awarding of the 2022 REALTOR® of the Year and Alan Yassky Distinguished Service Award; and a keynote speaker TBA.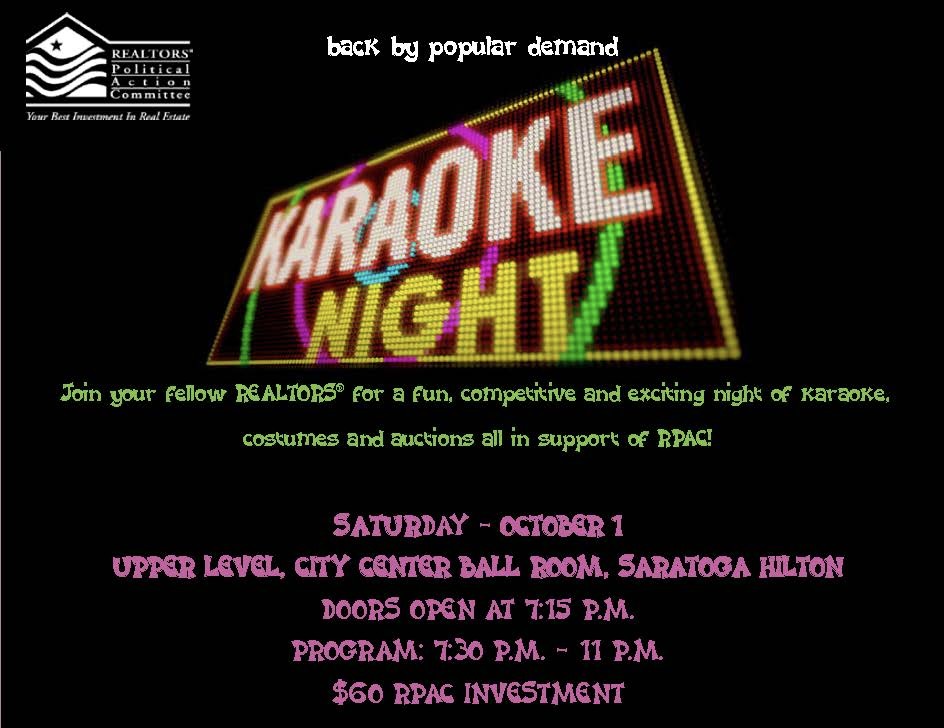 RPAC Karaoke
Saturday, October 1, 7:00 p.m. – 11:00 p.m.
Cost: $60
* Pre-registration is required.
RPAC Yoga
Sunday, October 2, 9:00 a.m. – 10:00 a.m.
Cost: $40
* Pre-registration is required.
DEI Committee
Sunday, October 2, 10:00 a.m. – 11:00 a.m.
Appraisal Course – Tips to Prevent an Appraisal Fire Storm
Sunday, October 2, 12:00 p.m. – 3:00 p.m.
3 hrs. CE Pending – Appraisers/Salesperson and Brokers
Cost: $50
* Pre-registration IS required
This course is designed for both appraisers and salespersons/brokers to have a better understanding of the changes in the appraisal profession and put into place a plan to prevent a delay in the mortgage process for the consumer. These changes will impact their clients both sellers and buyers. Agents will review their agency responsibilities.
Legal Update
Sunday, October 2, 2:30 p.m. – 4:00 p.m.
During the session, NYSAR Legal Counsel Anthony Gatto, Esq. will provide an informative update on current legal issues.
Cost: FREE
* Approved for 1.5 hours of CE Credit and satisfies DOS Legal Matters requirement.
* Pre-registration is required.
Caucuses
Sunday, October 2, 4 p.m. – 5 p.m.
All attendees are encouraged to participate in their board's caucus to share details about the committee meetings attended that week in preparation for Monday's Board of Directors meeting. Please note this important change to the caucuses. The caucuses will now be organized reflecting board/association size rather than region.
Small Board Caucus: fewer than 400 members
Medium Board Caucus: between 400 – 999 members
Large Board Caucus: between 1,000 – 9,999 members
Jumbo Board Caucus: 10,000 or more members
The purpose of the caucuses is to educate the members on action items that will be presented to the Board of Directors. The remaining time may be used to discuss other matters such as NYSAR committee meeting activities. The caucuses will be run by an appointee of the Executive Committee who will report back to the full Executive Committee.
YPN Happy Hour
Sunday, October 2 , 6:00 p.m. – 7:00 p.m.
Join NYSAR's Young Professionals Network for their Happy Hour fundraiser on Sunday night from 6pm-7pm. All are welcome to attend and socialize. There will be a raffle to raise money for Ronald McDonald House Charities!
Board of Directors
Monday, October 3, 8:30 a.m. – 11:00 a.m.
Save the Date!
The "Opportunity Awaits" – NYSAR 2023 Mid-Winter Business Meetings are tentatively scheduled to be held at the Crowne Plaza Albany – Desmond Hotel and Conference Center on February 5-9, 2023. If you have questions about the NYSAR Business Meetings, please contact the NYSAR office at 518.463.0300.