REALTORS® Property Resource (RPR)
What is RPR?
Successful agents consistently seek new strategies that will grow and brand their businesses, maximize their time, and help them gain a competitive edge in the marketplace. Fortunately, all of those objectives, and more, can be met by tapping into the most powerful data platform available to members of the National Association of REALTORS® family, Realtors Property Resource® (RPR®). As one of the most exciting benefits included in your NAR membership, and offered at no additional cost, RPR® offers exclusive access to analytics and custom-branded reporting tools that can be printed, emailed, or texted from anywhere at any time. Start your journey for our NYSAR RPR landing page or register by visiting narrpr.com. And don't forget to download RPR Mobile™ for any time, anywhere access.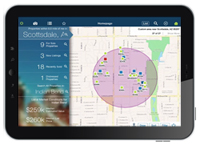 Jumpstart RPR on your tablet!
Watch this quick tutorial to get RPR Mobile™ up-to-speed on your iOS or Android tablet.